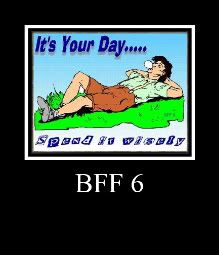 Budgeting time is good, really good! I been busy these past few days and I think a whole day isn't enough for everything I do. If it's only not bad for my health, I wouldn't sleep at night.
So, I come up to an idea how to budget and spend my time wisely. I need to make a time table! Making a time table is good especially for those multi-tasker like me and for those who are in business. Actually, this is good for each and everyone of us! Time is gold for us to waste it, right?
SO, I am showing my time table for an example!
| | | |
| --- | --- | --- |
| | | I badly need to have time for exercising. |
| | | I got a blog that only me can read, and it is a must to update to EVERYDAY. |
| | | Got few blogs alive, and it is also a must to update it as possible as I could. |
| | | I need to go out to cover some news/event for my Directory Website. |
| | Editing reports/ SN/ Editing pictures/ EL/ | I need to have time to edit my reports, SN, Pictures and email listing. |
| | | Lunch break, unwinding, and time to think something to write some personal stuffs. |
| | | Time for updating the directory website and daily reports to my boss. |
| | | I got this interest in writing a Tagalog Novel, so I think I need a time to it everyday. |
*
The schedule and time may interchange sometimes for some reasons!
My time table shows some of my daily stuffs and a must! Actually, its not yet the whole thing I need to do everyday! There are still a lot!
I hope I have given you guys an idea how to manage your time and spend it wisely!